Integrated systems that achieve simplicity
The ultimate purpose of technology is to simplify aspects of our every day life, but if implemented correctly, technology can also awaken our senses, making life more enjoyable. In order to accomplish this, we have expanded our field of knowledge into various divisions of the technological world in order to provide our clients with a complete system that incorporates all that modern technology has to offer.
See below for the many ways we can use technology to simplify your life.
Sennheiser has changed the game with a new wireless tabletop microphone solution made for large conference rooms and small huddle rooms. The system can be purchased with a set of two or four tabletop microphones, each includes a built-in speaker to hear the far side, as well as touch-sensitive buttons to raise and lower volume and mute. The configuration comes with a stylish charging tray and Bluetooth wireless communication to your laptop or desktop computer. Rather than have speakers installed in your ceiling or mounted to your walls, the built-in speakers provide clear audio right in front of you. A perfect solution for your teleconferencing needs.
Large spaces such as houses of worship, auditoriums and theaters normally call for large line-array speakers. In most instances, these speaker systems require a structural engineer to investigate whether or not the building can support the weight of the speakers. Furthermore, large line-array speaker systems are an aesthetic disruption with their bulky appearance. This complicated issue has been resolved with modern line-array column speakers which are tall and narrow and easy to blend into existing architecture.
More and more clients are requesting that there be no visible microphones, wired or wireless, in their conference rooms or training rooms. This prompted the first generation of ceiling microphones which were difficult to configure and the end result was not satisfactory. Today, Sennheiser offers a 2'x2' ceiling microphone array which is pre-configured to locate the loudest person in the room. This model is perfect for rooms that have modular tables or workstations that are constantly moved around into different configurations. No matter what the configuration, the ceiling microphone array will always search for the loudest person in the room without any operator interaction. For a cheaper price, Shure offers a similar ceiling microphone array, only their model is configured by the technician to cover specific areas of the room or table. This solution is a great fit for rooms with fixed tables.
Medium to large scale projects normally require a control touch panel in order to easily take control of the entire audiovisual system. Touch panels come in many forms such as wired tabletop or wall-mounted versions from our many control system manufacturers, or a generic iPad, iPhone, Android tablet or phone. We pride ourselves in offering easy to use graphical interfaces, whether the user be tech savvy or not. The ultimate goal is for the user to operate their audiovisual system with confidence.
Clients are always asking for the easiest way possible to operate their audiovisual systems. Some even say, "I don't want to have to touch any buttons, I just want it to be ready for me when I enter the room." Not long ago, this would have been an unattainable request, but with modern occupancy sensors, it can be accomplished quite easily. An occupancy sensor is used to monitor motion activity within a room. They can be configured to be ultra-sensitive, detecting the slightest motion of a hand, or less-sensitive, requiring someone to walk within a certain space. How can this be used with an audiovisual system? Imagine walking into your conference room and without saying a word or pressing a button, your display turns on, it switches to the primary source, the audio system is adjusted to a default level, and the overhead lights turn on. It won't take long for you to forget that there is a highly-intelligent control system working behind the scenes to make your life easier.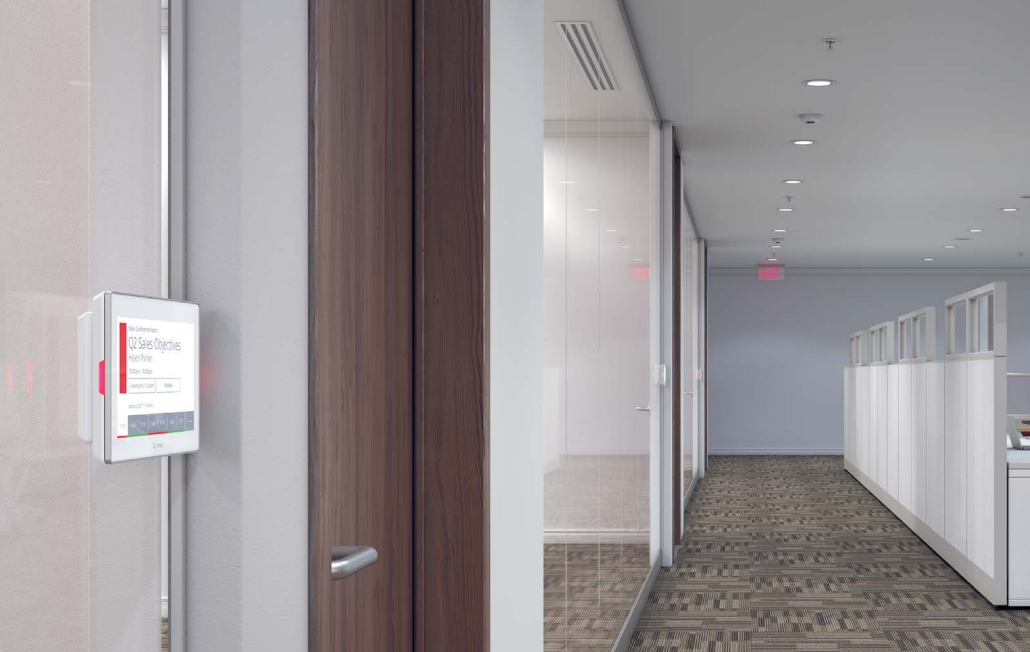 Businesses with multiple conference rooms are always looking for an easy way to provide room scheduling information to their employees. Extron, one of our most prominent control system manufacturers, has just released an effortless scheduling panel which can be mounted outside of your conference rooms. It is compatible with Microsoft Exchange, Office 365 and Google Calendar, easily embedding into your existing scheduling software. Available with a white or black panel frame to compliment your existing aesthetics. A single Cat5 connection to your network and powered over Ethernet (PoE 802.3af, class 3), with a simple technician setup, your conference room will be ready for scheduling in no time.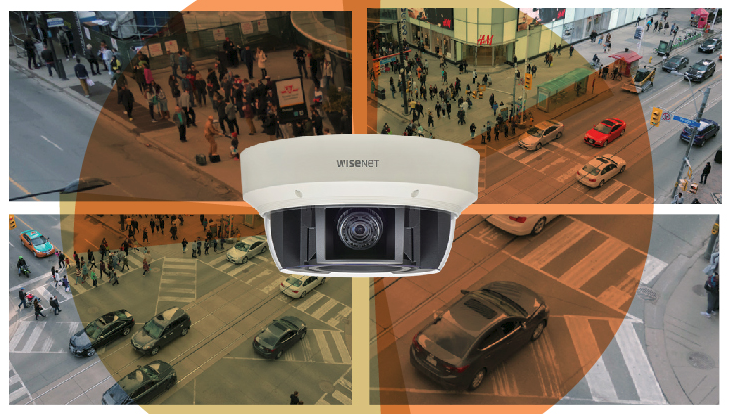 For instances where you need to capture multiple angles from one location, a multi-directional camera is the best fit. Rather than having four cameras mounted at a particular location, a single camera housing can accomplish the same task with only one Ethernet connection to your network switch or network video recorder. The model shown in this image is made by Hanwha (formerly Samsung), it includes four 5-megapixel camera sensors which can be individually adjusted to your specific application. Imagine a hallway crossing where four separate hallways meet, rather than have a camera for each hallway, this component can be mounted at the cross point with a camera dedicated to each hallway. One housing, one connection.
For clients who require video management software to monitor their surveillance cameras and footage, most software programs can be quite convoluted and difficult to learn, that is until Hanwha released their new simple management software called WAVE. WAVE is an IP video management platform that allows users to create IP video surveillance solutions tailored to any type of project, usable by anyone and on any device. It is simple to setup and use, yet a reliable video management software designed for you. Camera shots can easily be dragged into a layout and saved. If there is a particular section of the camera shot that you want to focus on, like a door or valuable merchandise, use the zoom feature to focus on that particular section of the shot. Want to search for identified motion in that zoomed frame as well? No problem. Never before has video management software been so easy to use.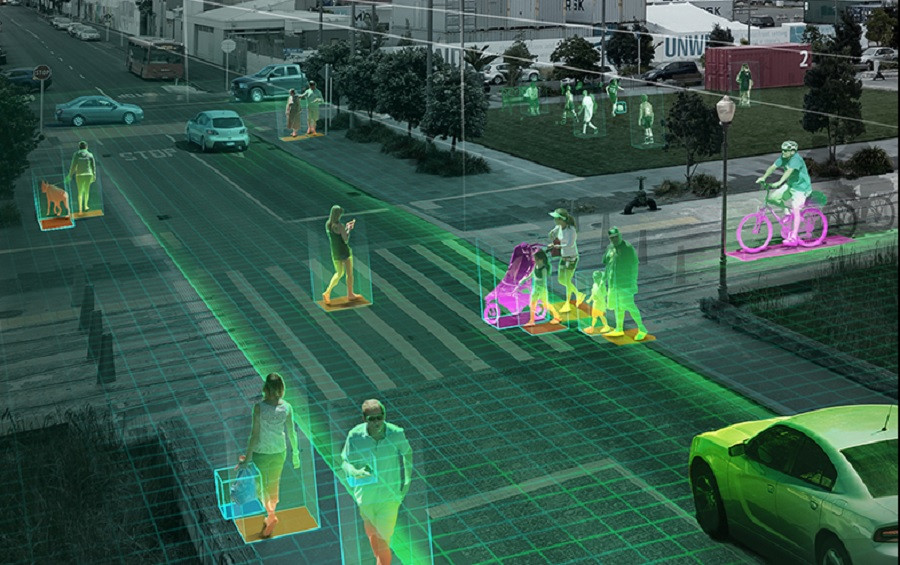 Most existing surveillance systems are not used to their maximum potential and analytics is a major feature that is often left behind. Analytics can be used to make your system more intelligent which in turn makes your job easier and your business or residence safer. There are many features analytics can provide, such as motion detection, perimeter crossing, unusual human behavior, head counting, alert triggering, and much more. Even with an integrated surveillance system, undesirable activity can still take place without constant human monitoring, that's where analytics help in doing the work for you during every second of every day.
Contact our integration team for further details
Michael Dominguez
Accounts Manager
michaeld@jensenav.com
805.962.0110
tomas lloyd-butler
Operations Manager
tommy@jensenav.com
805.962.0110
Juan Espinoza
Integration Service Coordinator
juan@jensenav.com
805.962.0110